Indebted, #3
"I tried to play a game. I tried to wield deceit as perfectly as the Hawks. But when I thought I was winning, I wasn't. Jethro isn't what he seems—he's the master of duplicity. However, I refuse to let him annihilate me further."

Nila Weaver has grown from naïve seamstress to full-blown fighter. Every humdrum object is her arsenal, and sex…sex is her greatest weapon of all.

She's paid the First Debt. She'll probably pay more.

But she has no intention of letting the Hawks win.

Jethro Hawk has found more than a worthy adversary in Nila—he's found the woman who could destroy him. There's a fine line between hatred and love, and an even finer path between fear and respect.

The fate of his house rests on his shoulders, but no matter how much ice lives inside his heart, Nila flames too bright to be extinguished.
.....
.....
PURCHASE
.....
5 STARS
Pepper Winters made my heart leap, so many times in this one, that I constantly felt my pulse pounding in my ears! Debt Inheritance was a vicious introduction between captive and captor. First Debt blurred those stark lines with raw temptation, a forbidden desire. And now...Second Debt changes everything! Who's an ally? Who are the true villains? The game changes, the stakes go up, and you're going to see Jethro and Nila in a whole new light.
Regal and in-control Jethro is stripped down, made vulnerable. A once weak and naive Nila has steeled over, built her own armor in order to survive. The layers to these characters and their relationship are so intricate. From book one, until now, I've loved watching them evolve. Pepper Winters grips those emotions powerfully and brings them to fiery life. Bouncing between lust and hate, I loved the tension and struggle, their contrast of fire and ice. They finally reached a point where they can no longer ignore the connection that's developed between them. *
highlights every filthy passionate thing*
Brushing her hair from her neck, I whispered, "I'm going to fuck you...here." Trailing my lips along her jawline, I murmured, "I'm going to make you moan...here." Baring my teeth, I bit her throat, filled with the primal need to mark. "I'm going to make you scream...here."





She shivered, letting her head fall back, surrendering to me.
This book pushed me over the edge right along with Jethro and Nila! They're impulsive, visceral, and rough...but what they share is intensely passionate, and above all else,
freeing
. They give each other what they're both ultimately craving: freedom. From obligation, from captivity. From tradition, from debts. Everything erotic and thrilling that I craved, I was rewarded with. Everything mesmerizing about this series was highlighted in this book. The foreboding. The ferocity. It's all there! Pepper Winters orchestrated such an addictive, consuming ride!
I feel what you feel. Whether it be a kiss or a kick or a killing blow. I wished I didn't, but you're mine, therefore, you are my affliction.
I was wrapped up in all of the detailed layers, especially as more about the debts and the Hawk-Weaver feud were unveiled! Aristocratic families steeped in wealth and secrets. Torture devices. Secret passages. Secret caves. I fully embraced the medieval/historical vibe in this book! I loved this hybrid of lyrical writing, the historical tones, and the edge and grit that comes with modern dark romances. Elements from these two genres were blended seamlessly and raised the story to a whole new level. Pepper Winters has created her own dark kingdom, with Jethro as its tormented prince and Nila as a rising rebel.
Oh, but the moment we've all been waiting for?
Anticipating? Dreading?
The time comes to collect that second debt, and it's akin to having the rug ripped out from underneath you! The panic, the anxiety.
Holy. Crap
. The author didn't lie when she said the debts only get worse! (I am freaking out already for the next three still to come!!!) You think you're spiraling in one direction, only to get twisted and turned unexpectedly!
Her forehead furrowed harder, her fists curled tighter, and she withdrew from me until there was no emotion left--just a tiny dying star that once had shone so bright.





Leaving me heartless and bleeding, she gave me nothing else to do.





I slipped into my role as torturer and began.
If you've been hesitant to start this series, or perhaps you read Debt Inheritance and wondered how could this possibly turn out well, I believe the journey has been worth it so far! Get in on this! I was hoping to go deeper with Jethro, and although there are still huge questions looming, his mask and calm facade are wearing thin. He gets a taste of happiness with Nila... Is this sympathy I actually feel for the devil?! ;) I wanted to see Nila's claws sharpen, and while fear and uncertainty still haunt, she's absolutely a different creature now.

My eyes were racing across the pages, devouring every word. This is the definition of a page-turner! I couldn't stop. I couldn't get enough. I fully expected Pepper Winters to hit me with something intense--to leave my heart pounding, my stomach in knots, and my head spinning with emotions--and Second Debt lived up to every single one of those expectations!
.....
GIVEAWAY
a Rafflecopter giveaway
.....
MORE FROM THE INDEBTED SERIES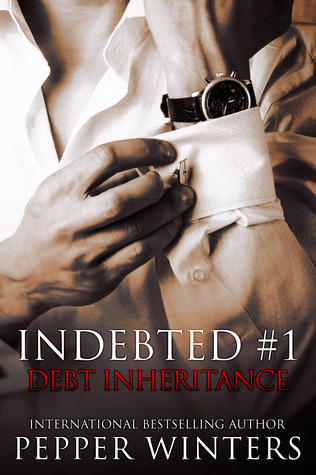 "I own you. I have the piece of paper to prove it. It's undeniable and unbreakable. You belong to me until you've paid off your debts."
Nila Weaver's family is indebted. Being the first born daughter, her life is forfeit to the first born son of the Hawks to pay for sins of ancestors past. The dark ages might have come and gone, but debts never leave. She has no choice in the matter.

She is no longer free.

Jethro Hawk receives Nila as an inheritance present on his twenty-ninth birthday. Her life is his until she's paid off a debt that's centuries old. He can do what he likes with her—nothing is out of bounds—she has to obey.

There are no rules. Only payments.

A modern day Dark Erotic Romance
.....
.....
Indebted, #2
"You say I'll never own you. If I win—you willingly give me that right. You sign not only the debt agreement, but another—one that makes me your master until your last breath is taken. You do that, and I'll give you this."

Nila Weaver's family is indebted. Stolen, taken, and bound not by monsters but by an agreement written over six hundred years ago, she has no way out.

She belongs to Jethro as much as she denies it.

Jethro Hawk's patience is running out. His inheritance gift tests, challenges, and surprises him—and not in good ways. He hasn't leashed her but he thinks he might've found a way to bind her forever.

Debts are mounting. Payment waiting.
.....
PURCHASE
| Amazon | Barnes & Noble | iTunes | Kobo |
.....
SERIES READING ORDER
| Debt Inheritance, #1 |
| First Debt, #2 |
| Second Debt, #3 |
| Final Debt, #6 |
.....
ABOUT THE AUTHOR
Pepper Winters wears many roles. Some of them include writer, reader, sometimes wife. She loves dark, taboo stories that twist with your head. The more tortured the hero, the better, and she constantly thinks up ways to break and fix her characters. Oh, and sex... her books have sex.
She loves to travel and has an amazing, fabulous hubby who puts up with her love affair with her book boyfriends.
Her Dark Erotica books include:
Tears of Tess (Monsters in the Dark #1)
Quintessentially Q (Monsters in the Dark #2)
Her Grey Romance books include:
Destroyed
*** ARC provided in exchange for an honest review ***