The New Adult Christmas continues! Make sure to follow the blog hop with the hashtag #NAChristmas to get excerpts and exclusive content! There's also an amazing giveaway for a grand prize pack of an ebook from every author!
.....
Today's stop is all about Bran and Talia, from Lia Riley's Off the Map series! The Off the Map series had everything, it was refreshing, vibrant, and beautifully written, and these books were some of the best reads in 2014!!! If you're already a fan of Lia Riley's, you're going to love this fun and adorable bonus Christmas scene! If you still need to read, you can check out all of the books below! :)
.....
Off the Map, #1
If You Never Get Lost, You'll Never Be Found

Natalia Stolfi is saying good-bye to the past-and turning her life upside down with a trip to Australia. Everything is going to plan until she meets a brooding surfer with hypnotic green eyes.

Bran Lockhart is having the worst year on record. Yet no amount of disappointment could blind him to the pretty California girl who gets past all his defenses. He's never wanted anyone the way he wants Talia. But when Bran gets a stark reminder of why he stopped believing in love, he and Talia must decide if what they have is once in a lifetime . . . of if they were meant to live a world apart.
.....
PURCHASE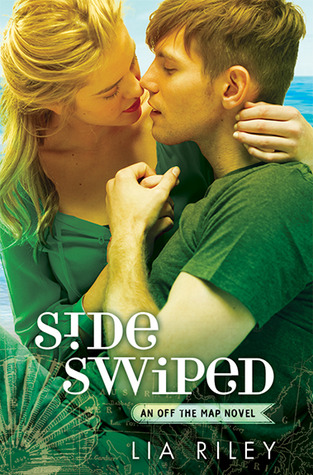 .....
Off the Map, #2
It was only meant to last the summer . . .

Talia Stolfi has seen more than her share of loss in her twenty-one years. But then fate brought her Bran Lockhart, and her dark world was suddenly and spectacularly illuminated. So if being with Bran means leaving her colorless NorCal life for rugged and wild Australia, then that's what she'll do. But as much as Talia longs to give herself over completely to a new beginning, the fears of her past are still lurking in the shadows.

Bran Lockhart knows that living without the beautiful girl who stole his heart will be torment, so he'll take whatever time with her he can. But even though she has packed up her life in California and is back in his arms for the time being, she can't stay forever. And the remaining time they have together is ticking by way too fast. Though fate seems determined to tear them apart, they won't give up without a fight—because while time may have limits, their love is infinite . . .
.....
PURCHASE
.....
Off the Map, #3
When Talia first moved from California to Australia to study abroad, she never dreamed she'd find the love of her life. Bran understands her like no one ever has before. And despite the numerous challenges they've faced, they've always managed to figure out how to stay together. But this time they'll face their toughest hurdle yet. Is their love strong enough to keep them together?
.....
PURCHASE
| Amazon | Barnes & Noble | iTunes | Kobo |
.....
"BRAN'S CHRISTMAS MIRACLE"
Bran opens the umbrella as I step out the passenger side of Dad's four-runner. "This weather fucking sucks, Captain."

"Don't be a Grinch, embrace California in December." I brush my lips over his scruffy cheek. "The rest of the country gets a White Christmas or Silver Bells. We score pelting rain."

The Sacramento Mall's parking lot is packed with fellow procrastinators. Bran ushers me around a giant puddle as his phone rings, barely audible over the downpour.

"Aren't you going to answer that?"

"Nope, I'm here with you." His half smile does double duty as a grimace. "Shopping."

"You make it sound like medieval torture."

"If malls existed in the fourteen hundreds, I've no doubt the Spanish inquisition would have put them to good use."

"Sorry I left this to the last minute. Buying presents for my dad is so hard."

Bran rubs against me as we step onto the sidewalk. "I'm the hard one, Captain."

I nudge him back and tap my lower lip. "Maybe we can sneak into a department store dressing room. Have a little ho, ho, ho for two?" Got to say, the idea of Bran rocking into me while I watch in a three-way mirror has a certain appeal.

A low groan tears from his throat. "Maybe I'm in the holiday spirit after all."

"Santa can put us both on the naughty list." I giggle before a sobering realization douses my anticipation. "Crap, wait, aren't there security cameras behind the mirrors to catch shoplifters?"

Bran opens the mall's entrance door, pulling me close as we enter. His tongue slides up the backside of my ear, the place that always makes me shiver. "I'll take my chances if you will."

"Sorry, Tiger, the idea of a security guard watching my bare ass while polishing off a Krispy Kreme is killing my lady boner. Save it for the veranda."

We're crashing on the broken futon at Dad and Jessie's tonight. It's a little sucky, but I'm not kicking my baby brother, Wyatt, out of his nursery.

Bran grimaces. "But that means Chester will watch."

"You and that chinchilla." I roll my eyes. "What's the deal? He's adorable."

"You mean a bloody nightmare. The way he looks at me?" Bran cringes. "It's just not right."

"Come to think of it, I've never seen him looking at anyone. He's normally, a little, you know, preoccupied?" I make a subtle wack off motion.

"Fucking hell."

A mother leaving Starbucks with her two small children gives us a dirty look.

"Hush! Can't take you anywhere."

"But you're the one who--"

I poke him in the upper ribs, while debating a peppermint latte.

He yelps. "Bloody hell, Captain, not the ticklish spot."

"Was that a squeak?" I poke again, harder. "Wow, didn't know you could hit that octave."

"Stop, stop," he gasps, trying to twist free but laughing too hard to move.

"Pretty sure dropping f-bombs at the mall is illegal, especially on Christmas Eve."

"Fine. Fine." He throws up his arms in mock surrender. "Anything you say."

We've made it to the mall's center. An embossed sign reads "North Pole" and a red carpet leads to a bored looking Santa lounging on a velvet throne. There's no line, guess everyone's already taken their obligatory holiday pictures. An elf photographer absently jingles a bell.

Suddenly, I get an idea. An awful idea. A wonderful, awful idea.

Bran's green eyes widen a fraction. "Captain? That smile, it scares me."

"Anything I say, huh?" I grab his jacket and tug him closer.

"Please tell me you've changed your mind about the dressing room." He arches a brow, his expression wolfish. "That jumper does things to me."

I glance at the ugly Christmas sweater Jessie's mother knit me, it's a picture of a sleigh and says "I believe." As ugly sweaters go, this is probably their high lord and master, but I didn't have the heart to reject it.

Obviously Bran finds my outfit hilarious.

I release my hold and cross my arms. "Just for that, you're going to do whatever I say."

"Fine, highness, what's my punishment?"

I point at Santa Claus.

"No." Horror takes root in his features. "No, no, no."

"Hey, you said anything." I shoot him a look. The look. "You can't put caveats on what you'll do for love. Don't be Meatloaf"

A muscle twitches in his temple. "And what exactly do you want me to do?"

It takes epic restraint not to rub my hands together. Oh, man, this is going to be fun. "I want a picture of you on Santa's lap."

There's a drawn out silence. "Little Drummer Boy" plays over the sound system.

"Captain." His intense green eyes are panicked. "I can't."

I tap the toe of my boot on the ground. "What are the last four letters of American?"

He throws up his hands. "But I'm Australian."

"You're a token American now, even have a fancy new green card thanks to Zavtra."

His phone rings again.

"Jesus, who keeps calling?" I ask.

He tugs out his smart phone and holds the call screen for my inspection. "Speak of the devil."

"Z's calling?" I shake my head. "On Christmas Eve?"

"He doesn't get out much."

"Your boss needs to get a life."

"Or get laid." Bran powers off the phone and shoves it in his pocket. "So," his sigh is epic. "A photo of me with Santa Claus, huh?"

I bat my eyes. "Make my Christmas wish come true."

"Bloody hell." He hands me the umbrella and sets his shoulders as if preparing to face down a firing squad.

"You'll do it?" My jaw drops.

"Of course." His look is unfathomable. "You asked me too."

I snort. "Since when does that ever make a difference?"

He gives my forehead a peck. "Consider this a holiday miracle." He turns and strides up the red carpet, past the giant Christmas tree and reindeer cutouts, arms rigid at his sides. I press my fist to my mouth, stifling giggles.

There's no way he'll go through with this.

He exchanges a few curt words with the elf who glances in my direction with an amused expression before ushering Bran forward.

Santa straightens in his throne and hands Bran a candy cane. The elf nudges Bran's shoulder, coaxes him to sit on the edge of the big man's knee. Bran looks like he might commit murder, but he perches, doesn't flinch, even when the elf shoves reindeer horns on his head.

The elf heads back to the camera and calls out, "One, Two, Three, Merry Christmas."

Then Bran does it, he switches on a smile that lights up his whole face, and sets my damn heart afire. I'm so charmed that I can barely stand it.

Santa and Bran exchange a few more words before he stands and saunters toward me.

"Oh my god, I can't believe you did that," I say.

The elf motions for us to stay put as the printer hums to life.

"Merry Christmas, Captain." He gives me a brusque kiss on the tip of my nose.

"So, naughty boy." I whisper into the side of his neck. "Did Santa happen ask what you wanted for Christmas?"

"Yeah." He braces my face between his hands and this time his kiss is slow and gentle. "I told him I already have it."

.....
ABOUT THE AUTHOR
After studying at the University of Montana-Missoula, LIA RILEY scoured the world armed only with a backpack, overconfidence and a terrible sense of direction. When not torturing heroes (because c'mon, who doesn't love a good tortured hero?), Lia herds unruly chickens, camps, beach combs, daydreams about as-of-yet unwritten books, wades through a mile-high TBR pile and schemes yet another trip. She and her family live mostly in Northern California.