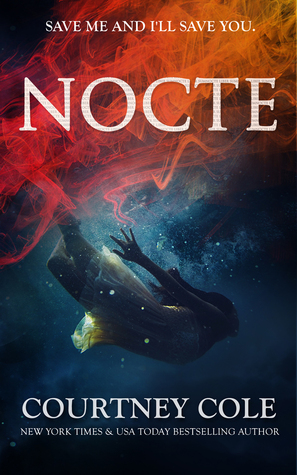 .....
Nocte, #1
Save me and I'll save you...

My name is Calla Price. I'm eighteen years old, and I'm one half of a whole. My other half-- my twin brother, my Finn-- is crazy.

I love him. More than life, more than anything. And even though I'm terrified he'll suck me down with him, no one can save him but me.

I'm doing all I can to stay afloat in a sea of insanity, but I'm drowning more and more each day. So I reach out for a lifeline.

Dare DuBray.

He's my savior and my anti-Christ. His arms are where I feel safe, where I'm afraid, where I belong, where I'm lost. He will heal me, break me, love me and hate me.

He has the power to destroy me.

Maybe that's ok. Because I can't seem to save Finn and love Dare without everyone getting hurt.

Why? Because of a secret.

A secret I'm so busy trying to figure out, that I never see it coming.

You won't either.
.....
PURCHASE
| Amazon | Barnes & Noble | iTunes | Kobo |
.....
5 STARS
When I finally sat down to write this review, I kept thinking back to the letter Courtney Cole wrote to her readers, a "warning" of what to expect in Nocte.

Is this story dark? Yes, she said.

I say...Eerie. Chilling. Instantly foreboding. Courtney Cole's words had the power to make the real world fade away and easily transport me to Nocte's version of Astoria, Oregon. Gray. Somber. Where waves break on menacing cliffs. Where a strange house stands isolated at the end of a winding, coastal road. The imagery often gave the novel a mystical, dream-like feel, then it would turn downright disturbing and spooky in a quick second. A gothic-like touch I wasn't expecting, but was fascinated by.

Is it twisted? At times, she admitted.

The two narrators in this novel, twins Calla and Finn, captured my attention immediately. Their world has been fractured by tragedy, by death. They are two voices portraying that emotional struggle, two sides of the same troubled coin. The way this author was able to bring that inner torment to life--the psychological twists--was incredibly riveting. What spilled out from certain chapters was darkly poetic. Ominous. And I never wanted to put this book down! The writing pulled me in completely and consumed me!

Will it have you flipping the pages, trying to figure it out, trying to get to the climax, trying to breathe?

God I hope so, Courtney Cole confessed.

Yes. All of the above, yes. Suspicion festers from page one, and it doesn't go away. I was anxious while reading! Nocte was cryptic--so, so cryptic--and I loved how the author built up the anticipation, then carried that tension through every reveal, one after the other, methodically. Because things have to happen in order...With books like these, you can give yourself a headache trying to connect all of the dots, but Nocte had such a rhythm to it! Yes, it messed with my head. Yes, it made me constantly brace myself and wonder WHAT is going to happen next. But also, that tight grip on my heart and my mind would release at just the right moments, only to surprise and grip me all over again a few page turns later. It all came together with a beautiful flow and pulse!

This was such an enthralling read! Tangled in the mystery and darkness surrounding Calla and Finn, there's also a tale of young, can't-resist-this love. Dare DuBray is a character in the story that Calla can relate to, someone to lean on. A seemingly ideal "escape" from her problems. Dare is a very thoughtful and enlightening character. Every scene or conversation was intriguing. The chemistry between Dare and Calla sparked instantly, but the relationship began as a slow burn. You could practically feel that current of electricity humming from the pages, the burn building. It was so damn hypnotic! He was something different and unexpected in Calla's life, but by the end of the book, you will realize that not all things are exactly as they seem...

Will it slap you in the face?

Absolutely, the author declared.

It's like fire finding more oxygen to spread. It escalates until chaos erupts. The flame--while fascinating--is ultimately destructive. The writing was so evocative and so compelling throughout. There was even a moment when I actually flinched while reading. The truth? The secret we were teased with from the beginning? Wow. It turned my heart and my head upside down. I was stunned speechless by how Courtney Cole pulled it off flawlessly. That's what this book does to you. It happens to you. The emotions. The environment. The actions. You're experiencing everything.

After all of the hype and buildup, there needed to be a spectacular bomb that finally goes off, and this author did not disappoint! The revelation is explosive. Shocking and heartbreaking, yet fulfilling, making so many pieces of the story come full circle. It's also an ending that left me begging for more! Since this is the first book in the trilogy, there is a cliffhanger, but I loved how it wrapped up one storyline and set up the next one perfectly. (Those last lines!!!) Book two, Verum, can't get here fast enough!!!


This was outstanding storytelling, from cover to cover. Perfect setting. Captivating characters. Distinct voice. A romance as enticing as the mystery. All of the things I love about suspense were well-executed--the anticipation, the mind-blowing feeling after it's all said and done. When I finished that last page, I was shaking my head, awestruck. Then, I couldn't sit still for hours. I had been on edge, so wrapped up in Nocte's pages, that winding down was not an easy thing to do! I wanted to go back and read this again immediately, and I've only said that about a limited handful of books this year! This is on my Best Reads of 2014 list. No question. Nocte is a hauntingly atmospheric and cunningly crafted tale, a highly engrossing read from start to finish!
.....
MORE FROM THE NOCTE SERIES
| Nocte, #1 - Excerpt & Trailer |
| Verum, #2 - My Review |
.....
ABOUT THE AUTHOR
| Website | Facebook | Twitter | Pinterest |
Courtney Cole is a novelist who would eat mythology for breakfast if she could. She has a degree in Business, but has since discovered that corporate America is not nearly as fun to live in as fictional worlds. She loves chocolate and roller coasters and hates waiting and rude people.
Courtney lives in quiet suburbia, close to Lake Michigan, with her real-life Prince Charming, her ornery kids (there is a small chance that they get their orneriness from their mother) and a small domestic zoo.