Happy Valentine's Day! I have a super special post for you all...an interview with one of my absolute favorites: Staci Hart! I've adored this author ever since I picked up her erotic suspense serial, Hardcore. She had an instantly captivating and refreshing voice, and I found myself easily craving more of her words! So as soon as she announced a new romantic comedy series, I was ecstatic and all over it. :D I love how she writes about love and friendships! Her characters are just so vibrant and jump off the page! If you're looking to discover the next gem in the romance genre, you need to get to know Staci Hart! <3
In today's spotlight feature, you can browse through some of my favorite reads from Staci--review links included! Then, check out the exclusive Q&A session that I did with the author! I had so much fun picking her brain! We talk about little things...like coffee or tea, favorite books ;)...we also talk about writing and life as an author, and of course, we talk about Staci's next release...Last Call! I think fans and new followers alike will enjoy this feature! :)
.....
Bad Habits, #1
Love is somewhere near the bottom of Lily Thomas' list of life goals, right next to competitive eating and underwater cave diving. She's spent six years pirouetting and pliéing her way up the ranks of the New York Ballet with her eye on the prize and love in the back seat. But now that Blane Baker -- Lily's long time crush -- is finally single, she'll throw her rules out the window without thinking twice.

Reality with Blane isn't as epic as the fantasy she imagined, and the truth sends her spinning straight into the arms of the man she never knew she'd always wanted.

West Williams has been friends with Lily since the day she moved into their building and he saved her armoire from a swift, sudden death by staircase. Their friendship has always been easy, the boundaries clearly defined. With neither of them willing to risk their relationship, they've drifted happily through the years as companions, never considering more.

That is, until they do. And that realization changes everything.
.....
Bad Habits, #2
Everyone knows you should never say never.

Cooper Moore never saw Maggie Williams coming. She was just his best friend's little sister, the curly-haired, freckle-faced girl from Mississippi who was absolutely off limits. And he never thought about her any other way — not until he saw her that night, broken and brave. From that moment on, he knew he'd do whatever it took to protect her, even if it meant he had to stay away.

Maggie never expected to find her fiancé banging her maid of honor an hour before she was set to walk down the aisle, but life's funny that way. The only option to save her sanity is to get the hell out of Jackson and move to New York where her brother lives. The only downside: Cooper is there too. And she just doesn't know if she can stay away from him — the filthy rich, dead sexy playboy who's allergic to commitment.

The second Maggie sees him again, she realizes he'll be impossible to resist. Luckily, commitment is the last thing on her mind, and Cooper is the perfect escape. As long as she can keep her heart in check, everything will be just fine. Because she can never have feelings for him. Or at least that's what she'll keep telling herself.

Chaser is a standalone romantic comedy and book 2 of the Bad Habits series.
.....
.....
Bad Habits, #3
Release Date: February 15, 2016

Once Rose Fisher makes a decision, that's it. End of story.

Like when her ex, Patrick, dumped her out of the blue, then showed up with a super hot, tatted up sex kitten on his arm. Then it was over for good. The end. Poof. Dead to her. Except he was everywhere — down the hall, at the bar with their friends, worming his way into her dreams.

But with their friends paired off, they're left alone more and more. Rose is determined to keep him friendzoned — doesn't matter that he stares at her with a smolder that drops all panties in a ten foot radius. She's over him, and she'll prove it by getting back into the dating game, Patrick be damned.

Patrick Evans is no stranger to consequences. When your mother walks out, your dad drifts away. When you leave home, you're on your own. And when you run away from the girl you love, you lose her. He finally has an opportunity to rebuild the bridge he burned, and it's not one he'll take for granted. But he'll have to fight for her, even if it hurts. Even if it means he'll walk away brokenhearted. Because deep down, he knows that she's it for him.

The trick will be to get her to admit she feels it too.
.....
.....
Hardcore, #1
*** Part 1 of a 3 part serial ***

Cory James has never known a life where she wasn't running. Running from the cops, her home, her past. Running from love. The only time she's free is when she throws on her hood and takes to the roofs to become a part of New York, to climb to a place in the city where she doesn't feel alone.

Stealing is nothing, lying inevitable, byproducts of survival. A way for Cory to provide for herself and for her younger sister, Jill, give her the life Cory couldn't have. For five years, Cory set up a long line of teetering dominos, one by one, choice by choice.

Meeting Van is the first domino to fall, and once they crash into each other, it's only a matter of time before her whole world is in danger of falling apart. She can tell herself over and again that she doesn't care, but it's a lie. She knows it from the first time she says his name, but she can't let him in, not when she has a job to do, a job that could rip her life apart at the seams. One that she'll have to betray Van to finish.

He'll follow however high she can climb, but she can only run for so long before she has to choose.

.....
ABOUT THE AUTHOR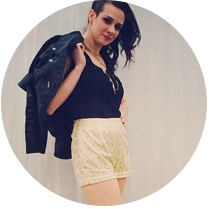 Icebreakers...
Coffee or tea? (Trick question. I'm pretty sure the answer is whiskey...)
STACI: Tea with whiskey! LOL. That's only in the evenings though, I'm a coffee girl in the mornings.
Cake or pie?
STACI: Cake. Nice, moist cake. With cream cheese frosting *drools* (That's the only way I can use the M word, so I always do)
Beach or mountains?
STACI: Mountains. After living in San Diego and now Denver, it's an easy choice. I'm still shaking sand out of things, and I moved five years ago.
Ebook or paperback?
STACI:
(*dun dun dun*) EBOOK! I know, I know. But I can read in bed when my husband is asleep with an ebook!
Can't leave the house without ________.
STACI: Music. I just can't bring myself to listen to the radio, and without the noise, I just lose it.
If you could have one superpower, what would it be?
STACI: To not need to sleep. Think of how many books I could write!!
You walk into a bar. What's the first drink you order?
STACI: Makers and Coke!
Favorite movie of all time?
STACI: OMG how do I choose? Whatever, I'm picking two. Better off Dead and The Princess Bride.
Favorite classic novel?
STACI: I don't go too far back, so I'm going to choose a modern classic — The Fountainhead.
What was your favorite read from 2015, any genre?
STACI: The Air He Breathes by Brittainy C Cherry
What was the very first book you read this year?
STACI: American Gods by Neil Gaiman AND IT WAS AMAZING. Top 5 favorite books ever.
Writing...
What drew you to the romance genre and made you want to become an author?
STACI: I love romance, and I've always been a reader, though I usually gravitate to the paranormal/fantasy side of fiction. I just like a little magic in my universe, you know? Because real life is hard, and fiction is a great escape. A friend of mine asked me one day what I would write, if I decided to, and I was surprised I'd never thought about it before. And as soon as I did, I knew it would be paranormal. And as soon as I decided paranormal, I knew it would be Greek mythology. And from there, the idea for my Hearts and Arrows story clicked into place. I started writing immediately, and had a first draft finished within two weeks. And then I knew it was what I wanted to do forever.
What did you do before choosing to write full-time? What was the transition like when you did decide to write full-time?
STACI: I'd been a graphic designer for over a decade before I wrote full time, and I'd started waiting tables for extra money the year before I broke out. It wasn't easy — I have three kids, had three jobs (including writing) which meant I burned the candle at both ends to get everything done. I was actually nearing the point where I was going to have to make some grown up decisions about writing with the impact it was having on my life, but then I published With a Twist, and everything changed.

The determining factor in writing full time was ultimately money, as it goes when you're a 'grown up,' whatever that is. I needed to be able to make enough to make sure my kids had shoes and we had food on the table, and when I got the opportunity, I jumped on it. I've never been so grateful in my whole life.

The transition has been tough — going from working nonstop to only writing. I have free time, and a lot of the time I don't even know what to do with it, it's been so long since I've had it. I made over our office to be just my room, and it's become a sanctuary for me. But there's a lot of adjustments. This is my job now, not a hobby, so there's more pressure. But every day I wake up feeling like the luckiest girl in the world. Every single day. I already feel the growing pains falling behind me, and the sunshine on my face feels good!
What is your personal writing process like? Do you have a certain routine that you like to stick to?
STACI:
I'm a very vigorous plotter, but my writing process is strange. I start with the 'bones' of the story, which are the bare minimum scenes to get the characters from point A to point B. Then my critique partners and I read it and plan the expansion. I expand the scenes, then go through and 'Shredit,' which is as gnarly as it sounds. I rip the manuscript down, almost sentence by sentence to polish it and prepare it for beta.
I write every day, Monday through Friday from around ten in the morning until five, and I push to get through as much as I can each day. Some days, that's just plotting, thinking, marinating. Some days it's just cranking my tunes and blasting through scenes. Every day it's fun, even when it's not.
I know when I'm writing for the blog, there are certain "essentials" that I need to have nearby and to help me get in my zone! Cup of tea. Pens. Notebooks. Those kinds of things. Do you have your own list of "writing essentials"? :)



STACI:

So I have this mint colored Bose portable speaker that's basically an extension of me. Without that, I can't write — unless of course I have my noise canceling earbuds in. I also need my super soft throw blanket. And chapstick. Lots of chapstick.
Where's your favorite place to write?



STACI:

My office! When I'm writing my first draft, I like to sit in my comfy armchair, but for editing, I prefer my desk.
Whenever you post songs in the Read Your Hart Out FB group, I always rush to listen to it! :D I love when authors share the music that inspires them. What are some favorites on your current playlist?

STACI:
Tricky and Rose have so much great music. My favorites right now are: Undertow by Warpaint, Kiss of Life by Supergrass, Lofticries by Purity Ring, and Move With The Season by Temples.
Favorite character you've written? (Yesss, I am evil and making you choose!)
STACI: So wrong. *heavy sigh* Cooper Moore, I think. He's just so easy and lovely and full of love, you know?
I AGREE! And Cooper is my favorite, too. :D What are your favorite scenes to write? What kind of scenes do you find easiest to write?
STACI: I love strong female friendships, so my favorites (and the easiest) are the ones where the best friends are talking and laughing and just being together. Lily and Rose. Perry and Dita. Cory and Erin. This just always make me so happy.
What has been the hardest/most emotional scene for you to write?
STACI: The hardest scenes I've ever written are in my third book, Doe Eyes, from the Hearts and Arrows series. There are three or four in that book that just gutted me. That book is so full of love and pain and emotion!
What are your favorite kinds of romance novels to read? Any favorite tropes? As an author, what's a fun romance trope that you would love to write in the future?
STACI: I LOVE comedy, so RomComs always grab my attention. I love solid angst, balanced by humor. I have so many books planned, I can't tell you a trope or I'll give it away ;)
Books and beyond!
Hardcore: Volume One was my very first Staci Hart read. I was so ridiculously hooked after that! And I remember thinking, this is crazy unique, and how did she come up with this awesomeness?? Where do you find inspiration for your books?
STACI: For me, it's a very organic process. It starts with a nugget of an idea (I'm going to write an erotica serial, or, I want to write interconnected standalones about a group of friends). That grows into what kind of scenario each couple finds themselves in, then what kind of people they are and how that shapes the way they make choices. And then I breathe life into it, filling in the humor, the love, the heart.
Also, one of the things that I love so much about your books is the detail in the storytelling. From parkour, to ballet, to sailing…You really pull the reader into the characters' world. What is your research process like, in order to get all of those details right?
STACI: A lot of research. Hours on google, watching videos, talking to people who know what I'm writing about. I love the research — I love learning things!!
Gorgeous book covers are definitely a Staci Hart signature! *praise hands* I adore your covers, teasers, and even swag! What's it like behind-the-scenes, being able to design all of those things yourself?
STACI: Convenient!! I'm so grateful that I have that skill in indie publishing, and it's really satisfying to scratch that visual creative itch, show the reader what I feel for the stories with images.
With A Twist and Chaser had covers/teasers made from custom photoshoots. What was that experience like? Working with the photographer, collaborating with the models, going through the shots…
STACI:
It's so nerve wracking and exciting and overwhelming in the best way. I'm so fortunate to have Lauren Perry of
Perrywinkle Photography
on my team. She and I share the same creative language, so collaborating with her is always rewarding. And the more we work together, the more she understands me and what I'm looking for, which is resulting in some amazing photos. It's difficult for me to give up that creative control, but Lauren is such a pro, I just close my eyes and breathe and remember that she's got this. Her talent is undeniable.
The romance reading community has such an amazing online presence. How fun is it when you get to interact with readers in your FB group and all across social media? Do you think Twitter, Facebook, Instagram, etc. are valuable tools for authors?
STACI: I definitely do. When it comes to authors, YOU are your brand. So putting yourself out there on social media is a way for you to show who you are, what makes you you. I've found that my group is the place where I go the most often for real interaction — Facebook and Twitter have become a place for announcements. But Instagram is a great ME feed!
You were a part of the Holidays with the Belles signing event recently, and you have a few more events planned in 2016! What was your first time like? (Getting your swag/table ready, meetings readers…) And what are you looking forward to with your future events?
STACI: It was a beautiful tornado! I have to shout out to my bestie and assistant Becca Mysoor — without her, I never would have survived. She kept me organized, on time, made sure my table looked beautiful, managed people as they waited in line, helped me plan everything. I just can't say enough about how amazing she is. But meeting fans, hugging them and laughing and smiling with them was just brilliant. I'm still high from it!
Last Call!
Last Call is up next on your release schedule! This book is the third in the Bad Habits series and finally focuses on Rose and Tricky. What can your readers expect with this couple? Tease us a little bit! ;)
STACI: You can expect to laugh, to swoon, to get smoldered at. There's angst. There's super hot sex. So many feelings!
Were there any challenges while writing this couple, compared to the others? Especially with them being the last pair in the Bad Habits group?
STACI: They're particularly challenging because THEY are the only thing in their way. There's a lot left unsaid, which is their M.O. They don't talk to each other, and characters like that tend to be wily to write.
Stephen. James. *heart eyes* He was your dreamcast for Tricky, with the body and those tattoos…What was your favorite "inspiration image" while writing Tricky's POV? Yes, this was a necessary question. ;)
STACI: Oh, God. This one.

What makes Tricky different from all of your other heroes?

STACI: Patrick is quiet, still waters and all that. He's deep and darker. He sacrifices himself because no one ever did for him — it's how he shows his love. But sometimes, it stops him from getting what he wants.

Now, Rose…I love her. She's been amazing in the best friend role and has just been a really strong pillar in this group of friends, but what are some other traits that we'll get to see highlighted? What are you really excited to share about Rose's life?

STACI: Oh, Rosie. She's the cynic, and you'll see that more when you're in her head. Her jokes are drier, more sarcastic. She's afraid of her feelings and of Patrick, but she can't even admit it to herself — her badass shell is made of steel.

Who's hotter in the bedroom? West/Lily, Cooper/Maggie, or Tricky/Rose??? *devious smile*

STACI: Oh, Tricky and Rose, hands down!

If you could play a song right now, to get everyone in the mood for/hyped up for Last Call, what would you play for us?

STACI: Black Sun by Death Cab

Thank you so much for hanging out and answering all of these questions, Staci!

STACI: OMG this was so fun! Thank you so much for doing this, I can't tell you what it means to me! <3