OOOH this author has transported me to another world with Jethro and Nila! Dark, spellbinding, intense...Just two books in, but I'm loving this seri

es so far! First Debt delves deeper into Jethro's world and the blood-feud between Weavers and Hawks, and yes...there are some intriguing twists. ;) My full review will be up next week during the blog tour! I'm already aching for book 3!!!
Make sure to enter the giveaway for a signed set of the Indebted books! Links for Debt Inheritance (Indebted #1) are also included!
.....
Indebted, #2
"You say I'll never own you. If I win—you willingly give me that right. You sign not only the debt agreement, but another—one that makes me your master until your last breath is taken. You do that, and I'll give you this."

Nila Weaver's family is indebted. Stolen, taken, and bound not by monsters but by an agreement written over six hundred years ago, she has no way out.

She belongs to Jethro as much as she denies it.

Jethro Hawk's patience is running out. His inheritance gift tests, challenges, and surprises him—and not in good ways. He hasn't leashed her but he thinks he might've found a way to bind her forever.

Debts are mounting. Payment waiting.
.....
PURCHASE
.....
.....
GIVEAWAY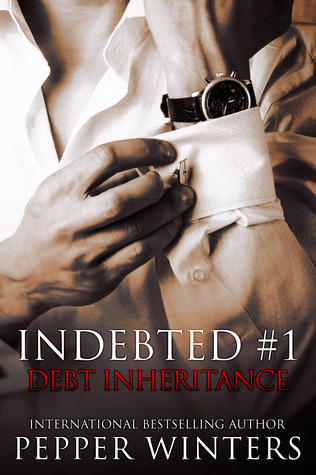 "I own you. I have the piece of paper to prove it. It's undeniable and unbreakable. You belong to me until you've paid off your debts."
Nila Weaver's family is indebted. Being the first born daughter, her life is forfeit to the first born son of the Hawks to pay for sins of ancestors past. The dark ages might have come and gone, but debts never leave. She has no choice in the matter.

She is no longer free.

Jethro Hawk receives Nila as an inheritance present on his twenty-ninth birthday. Her life is his until she's paid off a debt that's centuries old. He can do what he likes with her—nothing is out of bounds—she has to obey.

There are no rules. Only payments.

A modern day Dark Erotic Romance
*** Only 99 CENTS! ***
| Amazon | Barnes & Noble | iTunes | Kobo |
.....
ABOUT THE AUTHOR
Pepper Winters wears many roles. Some of them include writer, reader, sometimes wife. She loves dark, taboo stories that twist with your head. The more tortured the hero, the better, and she constantly thinks up ways to break and fix her characters. Oh, and sex... her books have sex.
She loves to travel and has an amazing, fabulous hubby who puts up with her love affair with her book boyfriends.
Her Dark Erotica books include:
Tears of Tess (Monsters in the Dark #1)
Quintessentially Q (Monsters in the Dark #2)
Her Grey Romance books include: