Today's post includes my review for First Debt, an excerpt, and a giveaway for signed swag packs! If you haven't started this series yet, there are links for book one, Debt Inheritance, as well!
*Join the Facebook Release Party!
.....
Indebted, #2
"You say I'll never own you. If I win—you willingly give me that right. You sign not only the debt agreement, but another—one that makes me your master until your last breath is taken. You do that, and I'll give you this."

Nila Weaver's family is indebted. Stolen, taken, and bound not by monsters but by an agreement written over six hundred years ago, she has no way out.

She belongs to Jethro as much as she denies it.

Jethro Hawk's patience is running out. His inheritance gift tests, challenges, and surprises him—and not in good ways. He hasn't leashed her but he thinks he might've found a way to bind her forever.

Debts are mounting. Payment waiting.
.....
4.5 STARS
This author has transported me to another world with Jethro and Nila! It's absolutely dark, spellbinding, and intense...The Indebted series is only two books in, but I am already loving it

so far and I am completely hooked! Pepper Winters's storytelling is as mesmerizing as ever, with First Debt delving deeper into Jethro and Nila's minds and the blood-feud between their families that ties them together, yet threatens to destroy them both.
I should've guessed how badly she would ruin me.
But all I could manage was a dumbstruck desire.
I stared into the eyes of a worthy opponent.
I stared at Nila Weaver with awe.
Book one, Debt Inheritance, evoked plenty of shock...and even fear. My head was racing to keep up as Nila was cruelly shoved into a centuries-old clash between the Weavers and Hawks. This time around, though, Winters slows the pace down a bit, takes her time to build on the old world feel that she created in Debt Inheritance. Hawkridge Hall, Jethro's mannerisms, the decor...all seemingly from another era, giving the story a distinct medieval vibe. And I liked it. Because while these characters live in modern times, with modern amenities and privileges, that old world vibe highlights the primitive nature of Nila's captors and the ancient debt keeping her in their grasp. It isolates you--the reader--in their universe just as wholly as Nila is.
Curiosity eventually overtook any fear left from book one. I wanted to see behind Jethro's icy mask and steely armor. He is hiding something, and this book will make you go crazy with theories! I love a character that can be dark, hypnotic, and fierce. And that's Jethro. He can give me the chills, yet that's what's beginning to make his character irresistible.
In his late twenties, Jethro wore command like one would wear cologne. His strong jaw, pursed lips, and sculptured brow shouted power--true power. And there was nothing anyone could do about it.
I loved getting more pieces about the Hawk family's origins and learning more about how their motorcycle club operates. This was actually a detail that I didn't expect at all when I first dove into the series, so I was eager to find out more about the Black Diamond brotherhood! Especially when another player is introduced to the game: Kestrel, Jethro's younger brother. He comes across as an ally to Nila, but you can never be sure what his intentions truly are. Just another layer in this complex story!
Meanwhile, Nila finds ways to reinforce whatever fight she has left in her, her will to survive. I liked that she kept going toe to toe with Jethro, testing and challenging him, never completely submitting. It was like watching a chess or tennis match, watching them volley back and forth, but the infinitely higher stakes only made this matchup more fascinating, a taste of psychological thrill.
Smiling sweetly, I murmured, "Isn't this what you wanted?"
His eyes stole mine. "There's nothing about this that I want."
I laughed--it sounded a little demented. "Who's the liar now, Mr. Hawk?"
Do things get violent? Brutal? If you read the first book, then you should already know this answer. But I'll still warn readers, this series is only for you if you have an open mind for dark romance, the blurring of moral lines, and yes, even sadistic tendencies. After all, this book is about Nila's first "payment" to the Hawks, and that scene lived up to all of the warnings that preceded it!
Nila looked over her shoulder, daring me with flames in her eyes. "I hate you."


Her words slammed me back to earth, her fire somehow giving me back my ice. I smiled. "You don't know the meaning of hate. Not yet."
If you do allow Jethro and Nila to lead you down this twisted, forbidden path...give in as completely as I did...then I can tell you that there is much more reward in this book than the first! This had such. Good. Buildup. When all of that tension...their hate-and-desperation fueled lust...finally erupted, it was eye-opening. Intoxicating. Raw. Mind-blowingly erotic. (Is that last one even a real term?? I'm using it! I hit that 80% mark and...*O-face*) I love when the main characters start to unravel, when they just can't restrain themselves anymore...It's reckless and animalistic. Pepper Winters has such a way with her words that she can wind you up so tight, then suddenly, she drops you into a freefall right along with her characters.
He smirked, his eyes dropping to my mouth. His lips parted as his breathing turned heavy and ragged. "Tell me what you want from me. You have my undivided attention."
With Jethro and Nila's growing connection a bigger focus in this book, First Debt had a mysterious and heady feel to it. More and more information is unveiled, only to raise more and more questions. Nila transforms from sheltered girl to impassioned fighter. Jethro finds his cruel icy exterior melting into a raging fire. Yet, there are hints that worse things are still to come! The debts are supposed to get progressively worse, and what Nila and Jethro do in this book can only make things much more difficult along the way! This book ends with an intriguing twist, and I'm aching for book three!!! I. Can't. Wait. To find out what happens next!
.....
EXCERPT
A small gasp fell from my lips as his fingers kissed the paper-thin skin. His eyes held me hostage. The golden brown was now a swirling bronze, raging with the same demanding hunger I knew reflected in mine.
"This sort of reminds me of the forest," I whispered. "The trees around us—no one else." My words fell like petals, waiting for Jethro to crush them beneath his glossy shoe.
Tracing one hand from my wrist, along the inside of my arm, and right to my throat, he fisted my ponytail. With intensity that stripped my soul to the very essence of who I was, he pulled my head back slowly, sensually, full of sexual power.
His eyes dropped to my mouth. "I'll let you in on a little secret, Ms. Weaver."
I panted, my neck straining against his hold, but I made no move to break the poignant awareness.
"You won that night, but I lied when I said it pissed me off." His mouth dropped, his tongue licked my bottom lip with the barest of grazes.
.....
PURCHASE
.....
GIVEAWAY
a Rafflecopter giveaway
.....
MORE FROM THE INDEBTED SERIES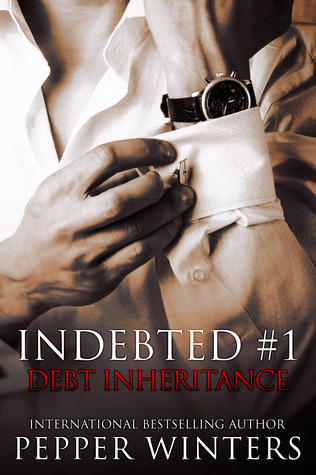 "I own you. I have the piece of paper to prove it. It's undeniable and unbreakable. You belong to me until you've paid off your debts."
Nila Weaver's family is indebted. Being the first born daughter, her life is forfeit to the first born son of the Hawks to pay for sins of ancestors past. The dark ages might have come and gone, but debts never leave. She has no choice in the matter.

She is no longer free.

Jethro Hawk receives Nila as an inheritance present on his twenty-ninth birthday. Her life is his until she's paid off a debt that's centuries old. He can do what he likes with her—nothing is out of bounds—she has to obey.

There are no rules. Only payments.

A modern day Dark Erotic Romance
*** Only 99 CENTS! ***
| Amazon | Barnes & Noble | iTunes | Kobo |
.....
ABOUT THE AUTHOR
Pepper Winters wears many roles. Some of them include writer, reader, sometimes wife. She loves dark, taboo stories that twist with your head. The more tortured the hero, the better, and she constantly thinks up ways to break and fix her characters. Oh, and sex... her books have sex.
She loves to travel and has an amazing, fabulous hubby who puts up with her love affair with her book boyfriends.
Her Dark Erotica books include:
Tears of Tess (Monsters in the Dark #1)
Quintessentially Q (Monsters in the Dark #2)
Her Grey Romance books include: