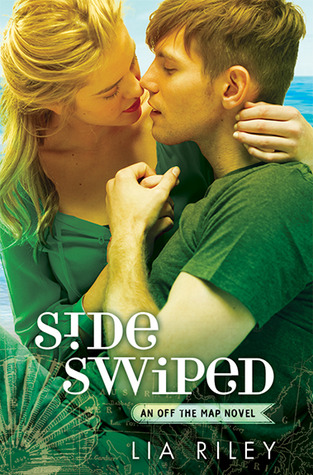 .....
Off the Map, #2
It was only meant to last the summer . . .

Talia Stolfi has seen more than her share of loss in her twenty-one years. But then fate brought her Bran Lockhart, and her dark world was suddenly and spectacularly illuminated. So if being with Bran means leaving her colorless NorCal life for rugged and wild Australia, then that's what she'll do. But as much as Talia longs to give herself over completely to a new beginning, the fears of her past are still lurking in the shadows.

Bran Lockhart knows that living without the beautiful girl who stole his heart will be torment, so he'll take whatever time with her he can. But even though she has packed up her life in California and is back in his arms for the time being, she can't stay forever. And the remaining time they have together is ticking by way too fast. Though fate seems determined to tear them apart, they won't give up without a fight—because while time may have limits, their love is infinite . . .
.....
4 STARS
When you first learn how to surf, getting up and balancing on that board are things easier said than done. (I'll always remember my first time at Linda Mar Beach in Pacifica...Not even gonna lie, it took me awhile.) The water can rock you. Your legs get shaky. And after awhile, after trying so hard, everything is sore. Sideswiped reminded me of that same kind of ache you get after a long session--as Talia and Bran deal with a lot more obstacles in their second book--but when it's all said and done, the ache becomes a satisfying burn. A reminder that you made it.
You did it
.
"This is you, the sea, and the sky. A set rolls in. You can't make out the wave. The board lifts and you feel the momentum building. There's fear deep in your belly, sensible, because you can't see what's coming or where you're going. You fight the self-protective instincts, give yourself over, and the next thing you know--you're having the ride of your life."
Talia returns to Hobart, to live with Bran while they both attend the University of Tasmania. I loved how easily Lia brought back the playfulness and once again lit a fire with their chemistry. (*
Eeeeepsquawk the Seven Mile Beach scene!*
) However, this time around, these two try to figure out their careers and their future together, all with a ticking clock and question mark hanging over their heads. The expiration date on Talia's student visa is yet another added pressure.
It was definitely a rougher ride in round two with Bran and Talia. I noticed quickly that things were going to be a lot more tumultuous, with an undercurrent of uncertainty that threatened to knock this couple off their feet. There were arguments that got me
all riled up...
but I knew I just had to be patient! Bran and Talia are young, only human, and getting to see this side of them made me care that much more.
"...if this is going to work, you can't shut me out. You're not just a you anymore; we're an us. We have to be there for each other."
There's rarely a perfectly comfortable moment in this book for them, to be honest. They're a bit vulnerable and
a lot
unsure, with only each other to push themselves through the chaos. No safety net or even family to truly lean on. There are so many doubts and obstacles that they need to love and support each other through.
Could they go the distance, make it last?
And as if the battle unfolding between Bran and Talia wasn't emotional enough
...Oh,
there were a lot of side characters that got under my skin, as well. They try to pull the "You're still so young! Don't let puppy love hold you back! Look at all of the opportunities you have ahead of you!" card, but I was rooting so hard for Bran and Talia to make things work! Everything seemed so much more on edge in this book that I missed the flirty banter and the cheeky humor from Upside Down
a lot
, so when they did sneak in for an appearance it felt like the best surprise. I latched onto the sweetness like a flotation device in deep water. The laugh-out-loud moments
were there,
soothing any frustrations when I needed it most. I just craved more!
I know joy can cut a deep groove in a human heart, and I know how sorrow fills those cracks after the happiness is gone.
I did love how Lia delved deeper into complicated relationships introduced in book one. Talia's mom, Bran's parents, and even Bran's sister. Even though I was tempted to shout angry things at everyone...*
squeals, claps hand over mouth*
...The dialogue and character interaction was so compelling.
And once again, Lia had a way of making the wild setting really come to life, showing me around Australia with just the magic of her words. My own chartered jet to a faraway land.
God, I love Lia's words.
So colorful and enchanting. Bran and Talia's story always feels so unique and interesting! Who and what they encounter...Where they go...This series has such a refreshing energy to it!
I was so immersed in Sideswiped, by the time I reached the ending, I was a teary-eyed mess, all in!
That ending
had me whimpering, "No, no, no, I'm not readyyyyyy!" It's not a cliffhanger,
but
...it's like your favorite TV show going away for a mid-season hiatus. Everything has built and built, and just when you're feeling the most raw, "TO BE CONTINUED..." flashes on the screen. I definitely wished for book three
the second
I closed this one! Bran may have tested my patience many times--"Damn it, Bran" muttered throughout--but the relief is so close! Bran and Talia have stumbled, but now they're up, riding the barrel of a wave...nearly stifled, but wanting and hoping so desperately to make it out to the other side with feet still planted on the board, not a wiped out mess drowning underwater.
"You have to believe, Bran."
"Believe what?"
"That you are lovable." My voice breaks. "That I will love you near, that I will love you far. You don't have to be scared."
Together, they learn that in life and love, there are no limits. No ceiling. You can't force either to stay restrained in a tight little box. There needs to be room for change, for compromise, to move, to grow. Through it all, I got a deeper look into Bran and Talia's hearts and souls, what they're made of, as their faith and trust in each other were put to the test. A deeper look into their dreams, their aspirations. How smart, determined, and passionate they can be.
There may be New Adult themes that you've read before, a journey you're familiar with, but Lia Riley's vivid writing and the extraordinary setting make the footsteps uniquely Bran and Talia's. As turbulent as it was, I still loved it! Off the Map is such a refreshing series, and I can't wait to have Inside Out in my hands!
.....
.....
GIVEAWAY
a Rafflecopter giveaway
.....
MORE FROM THE OFF THE MAP SERIES
| Review: Upside Down |
| Blog Tour: Top 5 International Dream Dates by Lia Riley |
| Author Interview |
.....
ABOUT THE AUTHOR
After studying at the University of Montana-Missoula, LIA RILEY scoured the world armed only with a backpack, overconfidence and a terrible sense of direction. When not torturing heroes (because c'mon, who doesn't love a good tortured hero?), Lia herds unruly chickens, camps, beach combs, daydreams about as-of-yet unwritten books, wades through a mile-high TBR pile and schemes yet another trip. She and her family live mostly in Northern California.
***ARC provided in exchange for honest review***