Max Payton lives by two rules:
Size and strength win any fight, and never show weakness.

When a rash of assaults sends Bowler University for a tail spin, Max volunteers to help teach a self-defense class. One of the other instructors is the beautiful pixie-faced girl he keeps butting heads with…and who challenges everything he thought he knew.

Lea Travers avoids guys like Max - cocky jocks who assume she's fragile because of a disability caused by a childhood accident. She likes to be in control, and something about being with Max makes her feel anything but. But during the moments he lets his guard down, Lea sees a soul as broken inside as she is outside. Trusting him is a whole other problem...

When the assaults ramp up and hit close to home, Lea and Max must learn, before it's too late, that true strength can come from vulnerability…and giving in to trust is sometimes the only way to make things right.
GETTING TO KNOW MAX AND LEA
In author Megan Erickson's own words!
Oh Max My Max. In the first book in the series, he doesn't know what kind of person he wants to
be. He's trying to please everyone else without realizing in doing that, he's letting himself down. And
everyone around him. In MAKE IT RIGHT, he has to figure out who he is, and if he's going to finally let himself become it.
Lea. My girl. What a fun character to write. She's smart and tough and independent. And she doesn't
realize that in keeping her guard up, she's doing herself a disservice. It takes a wrecking ball like Max to tear down that wall, and show her letting herself be vulnerable isn't a weakness.
Max and Lea at the grocery store...
Next were cucumbers. He grabbed one, threw it in and without looking up, reached for another. His hands closed around the width, but when he tugged, it didn't budge. He glanced at the cucumber, only to see a hand on the other end. A rather dainty, feminine hand. His eyes followed the thin wrist with delicate, protruding bones peeking out from the cuff of a pale purple sweater, up to a shoulder covered in a cascade of dark hair until he met the dark irises of Lea. He hadn't seen her since he dropped her off at her house two nights ago.
Her eyes, normally so round in her small face, were widened in surprise, as they both gripped opposite ends of a rather large cucumber.
"Umm ..." Max mumbled. "Hey Lea."
She blinked, those long lashes fluttering over flushed cheeks. "Hi Max."
Neither moved, still gripping this cucumber between them like they were passing a baton in a race. A
baton held at his crotch, which sorted his mind into one track. And because Lea made all his good sense and flirting knowledge fly out the window, he resorted to teasing her. In the library, he'd noticed the teasing coaxed Lea out of her shell. Instead of ignoring him or clamming up, she focused all that energy on him, even if it was to blast his ego to bits.
"You want this one?" He jiggled his hand, and her arm vibrated with the movement. His lip twitched
involuntarily. "It's kind of big. You sure you don't want something smaller?"
One slow blink, and then those dark eyes flashed and narrowed. Her lips twisted in a wicked smile. "Oh, I like them big. Just so many more uses for them when there's some girth, you know?"
For fuck's sake. That smile. Those red lips, now wet from one swipe of her pink tongue. And he was
hard. In a grocery-store produce aisle. While holding a cucumber.
Could he get arrested for that?
"Oh, of course, but do you know what to do with one this big? I mean, it can be a lot to handle. You don't want to waste any of it."
That tongue peeked out again. "Oh, I never waste cucumbers. I make them last a loooong time." She drew out the word, curling her tongue on her upper teeth on the l and emphasizing the shape of her mouth on the oooo. And then she chuckled, a deep sound that traipsed along his spine like fingers. "I'm not sure you're used to cucumbers this big, so why don't I just take this one? Hmmm?"
She tugged. And he tugged back. Through gritted teeth, he said, "Trust me, doll, I know exactly what to do with a big cucumber."
And that's when Lea lost it. She let go of the cucumber, threw her head back, shiny dark hair flying, and howled in laughter. She had a deep, husky laugh that settled into his gut like a cup of hot chocolate. He wanted to drink and drink and drink. Because he loved that he could make her laugh, especially in light of what had happened to her cousin.
When her laugh subsided, she eyed the cucumber in his hand and shrugged, giggles still escaping from her lips. "You can have that cucumber. There are plenty other big ones I can use."
Then she winked.
And he wondered if he had stepped into some alternate universe and this was a porno, because he wanted to say, the only big cucumber you'll be using is mine, and grab her and devour her mouth. But that was corny, and creepy and probably illegal in twenty-four states. So instead he threw his cucumber in his cart and bit the inside of his cheek.
MORE FROM THE BOWLER UNIVERSITY SERIES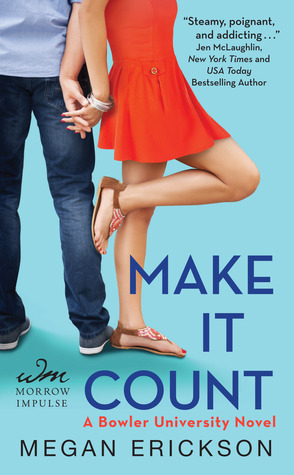 Kat Caruso wishes her brain had a return policy, or at least a complaint hot-line. The defective organ is constantly distracted, terrible at statistics, and absolutely flooded with inappropriate thoughts about her boyfriend's gorgeous best friend, Alec…who just so happens to be her brand new math tutor. Who knew nerd was so hot?

Kat usually goes through tutors like she does boyfriends—both always seem to bail when they realize how hopeless she is. It's safer for her heart to keep everyone at arm's reach. But Alec is always stepping just a little too close.

Alec Stone should not be fantasizing about Kat. She's adorable, unbelievably witty, and completely off limits. He'd never stab his best friend in the back…

But when secrets are revealed, the lines of loyalty are blurred. To make it count, Alec must learn messy human emotions can't be solved like a trigonometry function. And Kat has to trust Alec may be the first guy to want her for who she is, and not in spite of it.
GIVEAWAY
Megan worked as a journalist covering real-life dramas before she decided she liked writing her
own endings better and switched to fiction.
She lives in Pennsylvania with her husband, two kids and two cats. When she's not tapping away
on her laptop, she's probably listening to the characters in her head who won't stop talking.