Max Payton lives by two rules:
Size and strength win any fight, and never show weakness.

When a rash of assaults sends Bowler University for a tail spin, Max volunteers to help teach a self-defense class. One of the other instructors is the beautiful pixie-faced girl he keeps butting heads with…and who challenges everything he thought he knew.

Lea Travers avoids guys like Max - cocky jocks who assume she's fragile because of a disability caused by a childhood accident. She likes to be in control, and something about being with Max makes her feel anything but. But during the moments he lets his guard down, Lea sees a soul as broken inside as she is outside. Trusting him is a whole other problem...

When the assaults ramp up and hit close to home, Lea and Max must learn, before it's too late, that true strength can come from vulnerability…and giving in to trust is sometimes the only way to make things right.
The Bowler University series continues!!! My heart fell in complete love with book two! This story made me snort-laugh AND shed tears. The hero this time around is a bit tougher, and it's a battle to smooth out his hardness, to bring out the sincere and funny hiding beneath all of the surly stuff. Our new heroine has her own pain and scars, but she also has a beautiful, powerful soul. Throughout the novel, they both learn some valuable lessons on love, trust, strength, self-worth...If you're looking for your next New Adult read, PLEASE, GRAB A COPY OF MAKE IT RIGHT.
Surprisingly, I didn't hate Max in book one, Make It Count. I was curious more than anything. Surely, a boy who makes cookies that delicious can't possible be that terrible. (He bakes. *HE* *BAKES*. And he totally watches The Food Network...) I felt compelled to give Max Payton a second chance, and his side of the story in Make It Right didn't let me down! Although he made mistakes, MiR is about giving Max a much-needed tune-up and turning him onto a new path! *squeals and claps hands* I like my guys a little rough around the edges, with a good dose of redemption at the finish line!
As much as she wanted to hate Max and as much as she thought he was an asshole most of the time, she also glimpsed something else there. A kindness that made her want to dig under the cocky sludge of his exterior and get to his heart.
Once I met the rest of the Payton men, it wasn't hard to empathize with Max's situation. All he's ever had are two brothers, a single father, and an obligation to work in the family's auto shop. He's even a business major because it's what he's supposed to do, even if it's not what he wants to do. I always want to wrap these kinds of characters in a warm blanket and whisper sweet assurances to them. These are MY PEOPLE, the ones caught in between their own goals and someone else's expectations.

As a military brat...oh...I lived in a strict household. I understood how it felt to be ordered around so much that you can starve for appreciation. For affection. I remember how hard it was to even approach my dad, let alone tell him that I wanted to change majors (aka I would think about it, chicken out, repeat). More importantly, I remember how liberating and rewarding it felt to just FINALLY DO IT. I think Megan Erickson captured that development with Max so wonderfully, and this was one of my favorite parts about his journey! *happy sigh*
Aah, and then there's Lea. She's tough in her own way. She's a beacon of support for the people she cares about. After learning more about her accident and what she experienced, I saw her as the kind of headstrong girl who figured out her self-worth the hard way...but has owned it ever since. Max and Lea's first self-defense class, as co-instructors, really highlighted how these characters begin and set the tone for all of the work ahead of them. I couldn't wait to see what they'd bring out in each other!
How bad could a couple smacks by little Lea be? Twenty minutes later, he learned it was really fucking bad, as he lay on his back at Lea's feet, staring at the ceiling, stunned.
My favorite example has to be Max and Lea's first date!!! It was worthy of ALL THE STARS, and it's these kinds of moments that make me fall hard for a book!!! I loved the effort and planning Max put into it. It was so simple, yet oh-so-real. It showed that he wasn't some arrogant asshole at heart. There is a genuinely sweet and caring side of Max. It just took someone like Lea to lure it out. ;) I loved how Lea opened up to him, and he reciprocated her honesty with admissions of his own! They were intimately trading pieces of each other, their most vulnerable parts.
Then, as things took a more physical turn...WOW. Would you like to see my actual notes? *unravels mile-long scroll* Here are some of my caps-locked highlights:
- JUST GRAB THE HEADBOARD, MAX. DO IT.
- DAMN.......DAMN.
- HALLELUJAH, LEA.
Yes, it was hot!!! But also, I really saw how lost and deprived Max had been, and Lea was sustenance. She was the water to his desert. Peace in his chaos. It was a moment when her ability to take control really shined.
It was amazing how clear his lungs felt, the pressure of a lifetime of trying so fucking hard easing as her palms caressed his chest.
"Lea." Her name was a plea on his lips and her returned, "Max," was his granted wish.
Throughout the book, I felt like Lea and Max were coaxing out new sides of each other, and it was a transformation that I could truly applaud. Keywords: trust, courage, strength. Lea and Max explore all of that. For Max, he needed to see that strength isn't always about physical dominance. It's also knowing how to show your emotions and having the confidence to do it openly. For Lea, she needed to see that strength isn't only how well you can defend yourself and shut others out. It's also having the courage to trust and to let someone in. As for both of them, I thought it was important for both to learn that strength can be seen in knowing when to let go. Of the past, of expectations.
"I do trust you. With my heart. Do you think that makes me weak?"
Lea's voice was so key! To Max, it was powerful enough to be heard over the instincts he was raised to have, to reach a deeper, real side of Max Payton, and to save his life when he needed strength the most. And when Max got his turn to speak up and to later reach through to her? Those crucial scenes made my heart clench and the tears flow. Nothing ever felt overly dramatic or contrived, though. When the author did such an amazing job connecting me to these characters, I was already invested. I didn't need ugly drama. It was the small things, because I really cared, that affected me the most!
I also can't forget how these two made me snort-laugh. Straight up chortling, really. Max had a fantastic voice that screamed broody new adult, yet it oozed boyish charm at the same time. He pulled off some one-line zingers like a champ! It's what made bromantic scenes with Alec (these!!!), flirting with Lea, making homemade treats for his cat (oh, this cat...), and the lighter moments with his brothers SO FREAKING GOOD.
The comfortable banter is a nice breath of fresh air after the turmoil in MiC. I do love *friends*, and I loved the dynamic between Alec, Max, Cam, et al. this time around! The main characters and the supporting cast could all make me silly-grin! If you were a fan of book one, this will only make you an even bigger fan!
And, finally, what I've loved most about this series so far, what this series has shown me...As much as family, friends, and falling in love can be pillars to hold you up, ultimately, you have to be your own driving force to seek change. I loved getting to know more about Lea and Max through their families, their best friends, and their chemistry as a couple...but I loved how they were ultimately motivated for themselves. They each had their own futures in mind, independently figured out who they were.
This is definitely New Adult at its best. Heartwarming, hilarious, with a sexy, youthful touch. I'm loving this series, and I can't wait for the next book!
| Amazon | Barnes & Noble | iTunes | Kobo |
MORE FROM THE BOWLER UNIVERSITY SERIES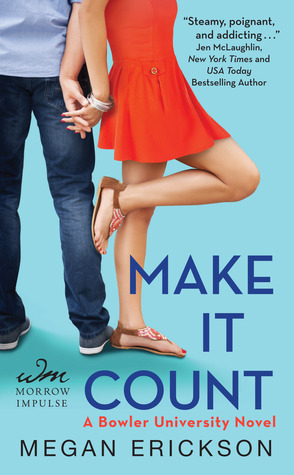 Kat Caruso wishes her brain had a return policy, or at least a complaint hot-line. The defective organ is constantly distracted, terrible at statistics, and absolutely flooded with inappropriate thoughts about her boyfriend's gorgeous best friend, Alec…who just so happens to be her brand new math tutor. Who knew nerd was so hot?

Kat usually goes through tutors like she does boyfriends—both always seem to bail when they realize how hopeless she is. It's safer for her heart to keep everyone at arm's reach. But Alec is always stepping just a little too close.

Alec Stone should not be fantasizing about Kat. She's adorable, unbelievably witty, and completely off limits. He'd never stab his best friend in the back…

But when secrets are revealed, the lines of loyalty are blurred. To make it count, Alec must learn messy human emotions can't be solved like a trigonometry function. And Kat has to trust Alec may be the first guy to want her for who she is, and not in spite of it.
| Amazon | Barnes & Noble | iTunes | Kobo |
.....
GIVEAWAY
a Rafflecopter giveaway
Megan worked as a journalist covering real-life dramas before she decided she liked writing her
own endings better and switched to fiction.
She lives in Pennsylvania with her husband, two kids and two cats. When she's not tapping away
on her laptop, she's probably listening to the characters in her head who won't stop talking.