.....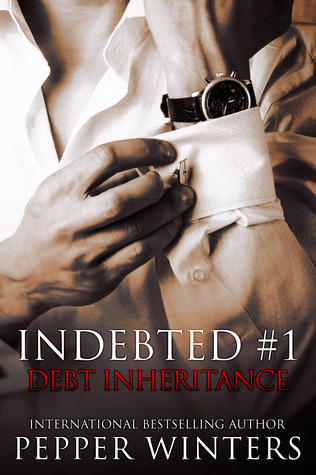 "I own you. I have the piece of paper to prove it. It's undeniable and unbreakable. You belong to me until you've paid off your debts."
Nila Weaver's family is indebted. Being the first born daughter, her life is forfeit to the first born son of the Hawks to pay for sins of ancestors past. The dark ages might have come and gone, but debts never leave. She has no choice in the matter.

She is no longer free.

Jethro Hawk receives Nila as an inheritance present on his twenty-ninth birthday. Her life is his until she's paid off a debt that's centuries old. He can do what he likes with her—nothing is out of bounds—she has to obey.

There are no rules. Only payments.

A modern day Dark Erotic Romance
.....
This was a sinister, nerve-clawing opener to the Indebted series, and after devouring this book in one sitting, the only words I was able to choke out were: Wow...whoa...Wow!
Debt Inheritance is only the beginning of Jethro and Nila's journey, so I must warn readers, this first installment does not offer breaks of soft romance, nor does it have a happy ending. This is a startling introduction to these characters, their world, and the ominous plans put into motion. Pepper Winters promises a light at the end of the tunnel, but first, she has to plunge you into the deep, hopeless pit of the dark.
One mistake six hundred years ago put a curse on her entire family.




One mistake sold her life to me in a mountain of unpayable debt.




I inherited her...




Nila Weaver.




Mine.




And my task...




devour her.
Jethro Hawk's words are sleek, sharp, and foreboding. Throughout this book, I wondered how he could ever be redeemed, how he could ever make the evolution to (anti-)hero. But for now...he's the villain. A hunter that's been unleashed, with one target in his sights.
His head tilted, grazing the corner of my mouth with his. A tease. A half-kiss. A promise. His mouth trailed to my ear. "You naïve little girl. If I took you, you wouldn't be adored or worshipped. You'd be used and fucked. I have no patience for sweet."
I can't say that I fell for Jethro. No, that wouldn't be the appropriate word at all. I was appalled and angered, yet utterly intrigued, by this man. He gave me the chills! Jethro is cold and vicious, and he takes control of Nila's life with absolutely zero remorse.
The full degree of his power and influence was revealed gradually, and when it became clear how he's able to pull everything off, well...I'll let you discover those facts for yourself! The author sets a painstaking pace, but the suspense only builds as each detail is uncovered.
I let myself glance into his golden eyes. You don't scare me.
His capricious demeanor shifted slightly, a silent message glowing in his gaze. Give me time.
And the prey for this calculating predator? Nila Weaver didn't even see the devil coming for her. She's a successful fashion designer, but for all the flash and decorum of the industry, she's also lived a rather unexciting and sheltered lifestyle. Even as a twenty-something adult, there's a naivete, an unassuming innocence, to her character.
His cold fingers trailed from my mouth to my throat.Wrapping tight. Unforgiving. The action showed the truth--the inhuman truth. This man was fastidiously groomed and softly spoken, but beneath it all raged a devil in disguise.
When confused Nila finally realizes what nightmare she's been dragged into, what she owes, it was nerve-wrecking to watch her break down into different emotions. I'd want her to obey and be strong enough to endure, just to survive, but I'd also feel it when that sliver of hope collapsed into fear and desperate panic. And I held on for dear life when she'd lash out defiantly! It was a wave of reactions, crash after crash! Jethro manipulates her mind and body. He plays with her sanity.
Through it all, the setting lends a certain old-world pageantry and history to the story. In the English countryside, the Hawk family's warped version of a hierarchy and the centuries-old debt can exist. It's a clash of ancient rules and modern facilities. A tangling of the old to the new.
"Your whole perception of the world is warped. You live in a fairytale, princess, and I'm about to destroy it."
I couldn't stop reading. Even when things were outright disturbing and terrifying, my eyes were glued to the pages in front of me, hypnotized by Pepper Winters's storytelling. I was hanging on every eerie, lyrical word. To use Nila's words when describing Jethro: "The rhythm and volume turned the horrible...into a poem rather than a curse."
This story was twisted, provocative, and mesmerizing. It made my mind race and my stomach turn, and certain parts were like a swift smack to the head like, did that really just happen?!
I always felt like there would be more, something else lurking behind every page turn. I was constantly bracing myself, and I reveled in the anticipation!
He looked as if he had one foot in this world and one in hell. A fallen angel who still burned with fire--yet it wasn't purity he burned with but hate.
I still have questions, but they're the kind that make me crave book two like crazy!
This first taste made me squirm. It made me uncomfortable. And, at certain points, it was truly--one of the only books that this expression works for--fucked up. So why would you want to read something like this?!

Pepper Winters expertly pulls you into Jethro and Nila's orbit. Where you're compelled to get lost in the cruel and twisted ride. This new breed of characters. The flow of the writing. The shocking story. Fans of the dark erotic/suspense genres should buckle up and get ready for the rollercoaster!
EXCERPT: MEET JETHRO & NILA
"Huge disappointment, Ms. Weaver." His cold glare sent a snowstorm wiping away the bonfire in my belly. "I'm done playing games, so cut the bullshit. Time to begin the day." His voice gave no room for interpretation. A cold draft show down my back.
My brief reprieve from debts and horrible Hawks was over. I'd been shown something I desperately wanted, but denied it because I failed to please him.
"You could teach me...show me how..." I couldn't make eye contact with him. Mortification painted my cheeks for both admitting I was clueless and asking a monster to coach me.
Jethro laughed. "You think that will save you from what's coming? Was that your little plan? To make me fuck you in the hopes I might feel something for you?"
I stood up slowly, clicking my tongue. "Ah, ah, ah, Ms. Weaver. Don't take that tone with me. You're the failure. You're the prisoner. You take what I give you. You do not assume to have any say or authority. That includes listening to everything I deem important to tell you." Ghosting to a stop in front of her, I murmured. "Is that quite understood?"
I flexed my muscles, welcoming back the soothing chillness of control. I hadn't liked stepping outside my confines of civility. Things got messy when silence was disrupted. Things got rushed when tempers rose and curses flowed.
And I didn't want to rush her undoing. I wanted to savour it. Devour it.
.....
.....
ABOUT THE AUTHOR
Pepper Winters wears many roles. Some of them include writer, reader, sometimes wife. She loves dark, taboo stories that twist with your head. The more tortured the hero, the better, and she constantly thinks up ways to break and fix her characters. Oh, and sex... her books have sex.
She loves to travel and has an amazing, fabulous hubby who puts up with her love affair with her book boyfriends.
Her Dark Erotica books include:
Tears of Tess (Monsters in the Dark #1)
Quintessentially Q (Monsters in the Dark #2)
Her Grey Romance books include:
*** ARC provided in exchange for honest review ***