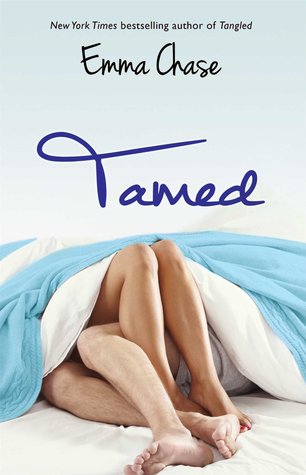 Stop me if you've heard this one before: girl meets player, they fall in love, player changes his ways.

It's a good story. But it's not our story. Ours is a lot more colorful.

When I met Dee I knew right away that she was special. When she met me, she thought I was anything but special--I was exactly like every other guy who'd screwed her over and let her down. It took some time to convince her otherwise, but turns out I can make a convincing argument when sex is at stake.

You might know where this story's headed. But the best part isn't where we ended up.

It's how we got there.

Tamed goes back in time to the Tangled days. But this time around, it's not Drew dishing out the advice and opinions – it's his best friend Matthew, who of course is dealing with Dee Dee.
Tamed may go back in time to the Tangled days--and the main characters in this book may be the best friends of Drew and Kate--but this is not Drew and Kate 2.0. Matthew and Dee-Dee are their own distinct characters, and they go down a completely different road.
There's no dying best friends, no dark tortured pasts, no hidden secrets, no sparkly vampire breakups, and no kinky fuckery. Well...okay...there's some kinky fuckery--but it's the happy kind.
Now, that doesn't mean to say I didn't see any or appreciate ties to the first book. They were definitely there, and I loved them. There is "offscreen" stuff that we didn't see the first time around because we were limited to Drew's perspective, and there was even some new insight into the Drew, Kate, and Billy debacle.
The best part, though? I adored the return of Alexandra and Mackenzie in this book. *SQUEE* Mackenzie! This little girl and her curiosity and her unfiltered mouth...I love when a man is good with kids, and Mackenzie with Uncle Matthew is just plain cute.
I tell her about the coolest four-year-old I know, Mackenzie, and that I would hang out with that kid every day of the week if I could.
Matthew divulges plenty of "Growing Up with Drew" stories, but he also has some great sister moments with Alexandra. (For real, praise The Bitch.) I really felt like they were three, close-knit siblings! I wanted to doodle Drew, Matthew, and Alexandra's names on a binder--I don't have one, but I'd get one just for them--and scribble little hearts and Friendship-4-Ever all over it. *happy sigh*
Drew and Alexandra move in front of me--like bodyguards...Separately, the Evans siblings are capable of throwing some deadly verbal daggers--you've seen them in action. But together? They're a tag team that would put professional wrestlers to shame.
However--of course--the real stars of this show are Matthew and Dee. Matthew is fantastic. His point of view isn't quite as harsh or cocky as Drew, but there was still that quick-paced snap to it, and it was absolutely LOL-...no, scratch that...LMAO-worthy. Although a player on the outside, there's a boyish charm just underneath the surface. Matthew boxes to stay fit, rides a motorcycle, and dates women like its all just a game, but there's a soft side to go with the sexy. A good boy underneath the dude-bro. Like, the kind of guy that goes to church every Sunday because its what Catholic school and his parents taught him to do. ;) If you somehow took Drew Evans and a teddy bear, and put them together to get the best of both worlds, you would get Matthew Fisher.
Dee Warren is free-spirited, bold, with a tough soul...an adventure waiting to happen! I liked her before, but in Tamed, I instantly fell in love with her attitude! She's a chemist. She loves to dance. She dresses outrageously.
"I want...life. Newness. Discovery. Change. It's why I like the city so much. It's alive--never stagnant...There's a country song with lyrics I like: 'I don't want easy, I want crazy.'...That's me."
While their relationship has its share of problems, it doesn't carry the same butting heads constantly/hate-to-love kind of tension as Drew and Kate's. Matthew and Dee develop differently. The innuendo and banter is fun. Dee is such a fun teeease! *waggles eyebrows* Also, I don't want to give away all of Matthew's tricks, but...the guys in this series and their smooth, goddamn romance...*shakes head with an evil grin* I loved their talks and getting-to-know-you conversations, as well. It always feels good to get all of that along with the hot chemistry in the bedroom!
The way her mind works, how she teases me, challenges me--I could spend day after day just talking to Delores and never get bored. She makes me think, she makes me laugh...she makes me hard.
Then...Ah, sh**. There it is...Turmoil. The moment when you want to smack everybody. Him. Her. Whatever it takes to knock some sense into them! Slowly, Dee's quirks, fears, and doubts start to come out, to hold her back. And...a couple of important people in their lives come between them. Remember what I said about Dee being an adventure waiting to happen? Matthew eventually ends up with two paths to choose from: adventure or disaster?

But here's the thing...the reason why we stick around for the ending...We're all hoping that the guy doesn't give up and write the girl off as another dating disaster. We want to see the hero of the story handle the slightly crazy moments and the bitchy side...and still try. That her strengths and her flaws make her worth it. And you know what else? We love to see the hurt-too-many-times-to-count girl own her fears and still put herself out there. That she can take a leap of faith...trust him...and be rewarded. And what do Matthew Fisher and Dee Warren ultimately say to all of that? Challenge Accepted.
To love another person, you have to know them--their quirks, their dreams, what pisses them off and makes them smile, their strengths, weaknesses, and flaws...Love isn't putting up with someone in spite of their faults--it's adoring them because of them.
I loved Matthew and Dee! They were wild and sexy, yet sweet and funny. I smiled those warm-and-fuzzy-blushing type of smiles and nodded along enthusiastically to every smart, brilliant thing they said, all throughout this book. But, even when there was trouble and heartache, I didn't want to put it down! Just like the first book, it was so easy to get caught up and completely smitten with the characters and their story! Another fabulous read from Emma Chase!
|
Teaser
- Scene with Drew, Alexandra, & Matthew |
MORE FROM THE TANGLED SERIES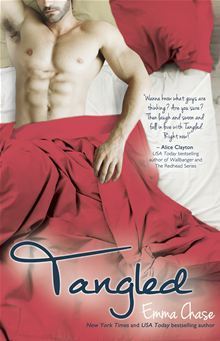 .....
Tangled, #1
.....
Tangled, #1.5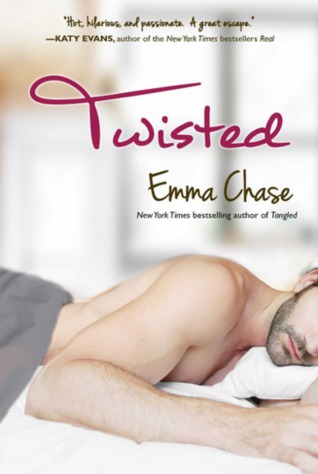 .....
Tangled, #2
.....
ABOUT THE AUTHOR
B