The Finding Dandelion Blog Tour has officially begun! I absolutely adored Jax and Dani, and I'm so excited to hear what everyone has to say about their story
and
the Dearest series as a whole! Check out the tour schedule
here
to see all of the wonderful blogs that will be sharing their thoughts. :)
Here, on T&BL's stop, check out my
5-star
review, a beautiful teaser from Lex Martin, and of course, buy links! This is for book two in the series, but if you haven't even started yet, I'll take care of you too! ;) The goods on book one, Dearest Clementine, are included as well! Finally, make sure to check out all the info on the Dearest Series Facebook Group!
When soccer all-star Jax Avery collides with Dani Hart on his twenty-first birthday, their connection is instantaneous and explosive. For the first time in years, Jax isn't interested in his usual hit-it and quit-it approach.

But Dani knows better. Allowing herself a night to be carefree and feel the intensity of their attraction won't change anything when it comes to dealing with a player. So when Jax doesn't recognize Dani the next time he sees her, it shouldn't be a total shock. The fact that he's her new roommate's brother? That's a shock.

Dani doesn't regret that night with Jax, just the need to lie about it. Since her roommate has made it clear what she thinks about her brother's "type" of girl, the last thing Dani wants is to admit what happened.

Jax knows he's walking a fine line on the soccer team. One more misstep and he's off the roster, his plans to go pro be damned. Except he can't seem to care. About anything… except for the one girl who keeps invading his dreams.

Despite Jax's fuzzy memory of his hot hookup with his sister's friend, he can't stay away from her, even if it means breaking his own rules. But there are bigger forces at work–realities that can end Dani's college career and lies that can tear them apart.

Jax realizes what he's losing if Dani walks away, but will he sacrifice his future to be with her? And will she let him if he does?

FINDING DANDELION, the second book in the Dearest series, is a stand-alone novel. This New Adult romance is recommended for readers 18+ due to mature content.
Finding Dandelion
can be
read as a stand-alone novel, but I'm going to do you a favor right now. My advice?
Please, read Dearest Clementine first.
It's not about filling in any plot holes or details, because author Lex Martin repeats bits and pieces when necessary, and you never have to worry about getting lost somewhere in the middle. But...she also did such an amazing job breathing life into her characters in the first book that it really sets up the vibe for Finding Dandelion. And it would almost be a
crime
for you to skip it ;) You get a
feel
for who they are, can just imagine how they'd deliver each line, and picture their reactions. These characters will be living in your head as if they were your own best friends!
When I see my sister in the stands, I jog over, but I almost stumble when I realize who she brought. Dani is wearing the letter X across her snug-fitting shirt.
The girls are wearing the letters that spell my name, but I'm only drawn to one. "X marks the spot."
Dearest Clementine made me fall in love with its
personality, humor, and heart
, and I definitely got all of that again in Finding Dandelion. Roommates Jenna and Clem make appearances, along with small cameos from their boyfriends Ryan and Gavin. *
pauses to super-dreamy sigh*
New characters are also brought in, like Dani's fabulous best friend Travis! The easy familiarity, the witty banter, and the laugh-out-loud moments definitely brighten up the whole book, and it's just
fun
to be in their little circle.
"I should probably warn you...I'm no knight. More like the big bad wolf." He looks away for a moment. "Maybe you should run while you can."
"Maybe I'm looking for a wolf...And maybe I can handle bad."
Dani Hart is the kind of heroine that I love to root for. She's kind, smart, and artistic, with a bit of a wild streak ready to burst out. She likes
sports
and beer, and she references Star Wars...
my kind of girl!
Jax Avery definitely got his fill of surprises with this one. ;) Yet, as much as I was charmed by
her
, I was just as fascinated by her journey. In this book, Dani is caught between two lives: majoring in business or art. It's that easier-said-than-done choice between what's "nice and safe" and what her heart truly wants. I've been there before...Oh, how I've been in those shoes.
Literally, business degree or art school
...and I love when I can relate to the main character in a big way.
I don't want to set myself up for heartbreak, and that boy has disaster written all over him like the S.S. Titanic

.
As for our hero, Jax?...
Ah, Jackson Avery *fans self*
...This time around, the story is told through dual point of view, so we also get what Jax is thinking and going through. He is
very
different from Gavin. I felt like Gavin and Ryan were so confident and comfortable with their girls in book one, so it was significant to be in Jax's head for parts of book two. Both hero
and
heroine had a long way to go to find their happy ending.
The romance was the slow, sweet burning kind. I swooned and melted.
It ached so good.
There were parts that were
hot and holy $&%@ sexy
, and parts that were
cute and adorable
. It all kept building up to that fantastic point of
I can't take this anymore, PLEASE BE A COUPLE NOW.
He inhales deeply. "I should stop or I'm going to fuck you on the kitchen table."





I don't think. I don't hesitate. "Who says we should stop? We'll call it breakfast."
I definitely reached a
critical
boiling point in this book, as well. I was pissed at certain decisions, whipping out the
Gretchen Weiners
voice and the
Phoebe Buffay
reactions. These were things that made me want to *keysmash*. Then, somehow, I was throwing my Hallelujah!-hands in the air. Emotions. I had a lot of them. Twists. Yeah, there were a few. I can honestly say that I was more of a wreck while reading Finding Dandelion.
I swear I see sadness behind his eyes...and part of me wants to do what I can to make it go away.
At first, Jax and Dani seem so different, and only bonded by a physical attraction, but as the story continues, there is a very real connection between these two. Jax and Dani deal with a lot of pressure, regarding school and their future careers, that bring doubt and uncertainty bubbling to the surface. It isn't always about
changing
, though. Jax and Dani are far from boring when they start out...in fact, they're completely interesting individuals...They don't need to change, just
stop hiding
. For this couple, it's about finding out who you really are, owning it, and being brave enough to let the truest part of you shine brightest.
"I could get used to you, Dandelion," he whispers, leaning down to brush his nose against mine in the kind of sweet gesture usually reserved for couples in love. Jesus. If this is part of his game, I'm lost, hook, line and sinker.
Due to a painful past, Jax retreats to what is easy: playing the part of an asshole
player
that never settles. Deep down, though, you'll see that he's buried a great heart and a caring soul, capable of genuine love and affection. There are surprises when it comes to Jax, too! And when you see
why
he's kept that part of him hidden for so long? Why he's protected himself from being in a serious relationship? Wow. I felt
knocked on my ass when that truth was revealed. (There was something in Dearest Clementine that I really wanted explored, but it didn't quite get into...
Here
, in this book, I finally got it!)
Dani, in one of the most heartbreaking ways, also gets a reminder that life is too short to
live quietly
. You just have to live for
you
, not for anyone else. Take risks, fall in love...It's the scary things that often make life worth it.
I feel like I've wasted time hiding.




I'm ready to just be me.
And
that,
a simple message,
is how the author makes every misunderstanding and angry moment in this book
worth it
. Jax and Dani were each other's wake up calls. Once you see the whole picture, everything they've been through, I guarantee it will make you a little teary-eyed and make your heart fill with butterflies and squees! Lex Martin gives us another story about growing up and figuring life out, and she does it in her signature style..with the perfect combination of raw angst and humor, fun characters, and a beautiful happily ever after! It's everything wonderful about the New Adult genre, yet somehow unique to Lex Martin and her Dearest series. I need
more,
now please! ;)
"Jax," I whisper, "thanks for coming...to find me."




"Dandelion, I'm starting to think you're the one who found me."
MORE FROM THE DEAREST SERIES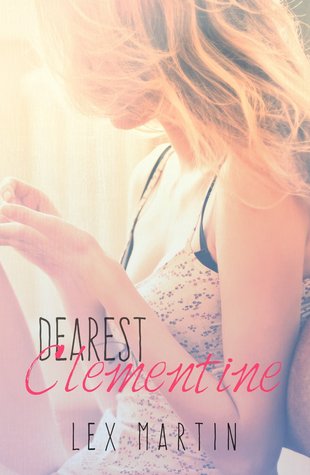 Twenty-year-old Clementine Avery doesn't mind being called bitchy and closed off. It's safe, and after being burned by her high school sweetheart and stalked by a professor her freshman year of college, safe sounds pretty damn good.
Her number one rule for survival? No dating. That is until she accidentally signs up for a romance writing class and needs material for her latest assignment. Sexy RA Gavin Murphy is more than happy to play the part of book boyfriend to help Clem find some inspiration, even if that means making out...in the name of research, of course.
As Gavin and Clem grow closer, they get entangled in the mystery surrounding a missing Boston University student, and Clem unwittingly becomes a possible target. Gavin tries to show Clem she can handle falling in love again, but she knows she has to be careful because her heart's at stake...and maybe even her life.
DEAREST CLEMENTINE is a stand-alone novel with two companion novels. This New Adult romance is recommended for readers 18+ due to mature content.
.....
DEAREST SERIES FAN GROUP
After you've read Dearest Clementine and Finding Dandelion, join us on
Facebook
! This is a place to share fan-made graphics, opinions on Lex's characters and their crazy-amazing stories, or...just how you swooned, flailed, etc. ;) Aside from photos and feels, you can also send in any questions you might have for the author herself!
.....
Lex Martin writes new adult novels, the sexy kind with lotsa angst, a whole lotta
kissing, and the hot happily ever afters. When she's not writing, she lives a parallel
life as an English teacher. She loves printing black and white photos, listening to
music on vinyl, and getting lost in a great book. Bitten by wanderlust, this native
Texan has lived all over the country but currently resides in the City of Angels with
her husband and twin daughters.