.....
One-night stands are supposed to be with someone convenient, or wickedly persuasive, or regrettable. They aren't supposed to be with someone like him.

But after a crazy Vegas weekend celebrating her college graduation—and terrified of the future path she knows is a cop-out—Mia Holland makes the wildest decision of her life: follow Ansel Guillaume—her sweet, filthy fling—to France for the summer and just…play.

When feelings begin to develop behind the provocative roles they take on, and their temporary masquerade adventures begin to feel real, Mia will have to decide if she belongs in the life she left because it was all wrong, or in the strange new one that seems worlds away.
.....
5 STARS
Christina Lauren books always have that unmistakable wow-factor, and Sweet Filthy Boy had it in spades!
Once again
, I was left starfished on the ground, in a book-love haze. The characters were irresistibly fun and intriguing, and the plot was full of twists and surprises!
The story begins with Lola, Harlow, and Mia, a group of best girlfriends fresh from their college graduation. They're in Vegas to have a damn good time before "real life" begins! The one who needs it the most, though?
Mia
. She's caught between what she
really
wants to do with her post-college life and what she thinks her
overbearing father
wants. If you've ever felt that kind of pressure from a parent, you'll feel sympathy for Mia immediately. A horrible event in her past quite literally shattered her dreams, and it's up to her to pick up the pieces and figure out a way to put them back together.
While in Sin City, she finds an unexpected outlet in Ansel Guillaume, the sexy and charming French boy across the hall from the girls' hotel suite!
"Come join us."




Nothing has ever sounded so dangerous and so tempting all at once.
They bump into each other again at a bar...well, he
made sure
to find her ;)...and the conversation flows between witty and flirtatious Ansel and typically reserved Mia. That spark ends up igniting into one wild night. *
waggles eyebrows
*
The alcohol coming back up is sour, tastes like shame and a hundred bad ideas poured down my throat.
Aaah, yes.
Vegas!!!
*
squeals and claps hands*
When I first heard about the book's premise, I was curious to see how the infamous One Night Stand would go down...Hard and fast,
Bennett Ryan
-style...Maybe how mysterious
Max Stella
would like it...Or, like sweet
Will Sumner
, perhaps?...Nope.
This
impulsive hookup happened unlike any way that I was expecting. And the results? 12% in, it hit me. My eyes went a little wide, my mouth in a shocked "Oh." ...Then, my lips turned up into a wide grin.
There's Surprise #1!
Oh, Christina and Lauren, you crafty little devils. ;)
It made for one
fantastic
morning-after.
"Which was your favorite? Living room, or bed, or floor, or bed, or wall, or mirror, or bar, or floor?"




"Shhh," I whisper, lifting my cup to take another, more careful sip of coffee. I smile into my mug.
Afterwards, unable to simply part ways, Ansel offers the perfect getaway for Mia: a summer in Paris, France. She refuses, initially...but then, we all know what happens.
She gets on the plane.
And, ultimately, I understood what motivated her to change her mind! If I could've, I would've reached in and shoved her on board myself. I was so excited for that moment
that I'm pretty sure I looked like a barking, clapping sea lion in front of my Kindle!
What we know is dimly lit bars, playful banter, the clean, crisp sheets of hotel rooms. What we know is the unrequited possibility, the temptation of the idea. The make-believe. The adventure.




But when you choose the adventure, it becomes real life.
Again, though,
that
part did not go as I imagined it would! It was...a hot mess
and a half
. I couldn't help but ugly-cackle in disbelief and
amusement! Once Mia and Ansel arrived in Paris, things didn't exactly improve, either. At least, not right away. This was one of the many times I really appreciated that the novel was entirely from Mia's point of view. Unlike the authors' previous novels that alternated between the hero and heroine, this story was all Mia. I loved that I had no idea what he was thinking! I had to live through all of
her
uncertainty and awkwardness...and cringe my way through all of it! ;)
In fact, the hot chemistry and flirting that came so easily in Las Vegas...it
almost
disappeared in Paris. It wasn't sweep-you-off-your-feet magical or intense at all. There
were
flashes...little "aww" and "OH" moments...but they felt cut off! Their first few weeks together never felt completely satisfying. As Ansel's brutal work schedule took its toll, and Mia ended up spending a lot of her time in the city alone, she realized just how little they knew about each other beyond sexual intimacy.
I watch him for a beat, feeling a smile slowly curve my mouth. "We're doing everything backwards," I whisper.




Taking a small step closer, he says, "I need to seduce you all over again, then."
Yet, they
do
try. They do try to get back to that comfortable place, that feeling, and
thank goodness
there is relief! Mia and Ansel found a...
unique
...and exhilarating way to let their trust and affection grow deeper. I loved watching that unfold! There were incredibly raw, sensual scenes that just
rocked
me, then there were the sweetest, tender moments that pulled at my heart strings.
"You give me your soul, and I make your problems go away."




His smile returns and his hands slide forward, framing my hips. "When you look the way you do, I don't think I have much use for a soul." He leans in, runs his nose along my neck, and inhales. "It's yours..."
Finally, I could appreciate being in Paris
, the city of love
! Because I absolutely
loved
how I was transported to this enchanting place! The neighborhoods, landmarks, and architecture, the metro, even the inside of Ansel's cozy flat...Each description came to life, and I could picture it all. It heightened the sense of adventure, discovery, and romance.
The escape
.
That right there, however, is the keyword:
escape
. *
takes a deep breath
* Throughout the book, you know that Mia is only
avoiding
her problems back home, not
solving
them. You're constantly reminded of how temporary this Summer in France is
supposed
to be. But the more Mia got to know Ansel, she found that he had his own problems. There were hints that his life was a lot more complicated before she came into the picture and that maybe her current presence was
his
way of escaping. Questions were raised, and *I* certainly had my own concerns and suspicions!
His groan vibrates through my bones, along my skin, and I feel the continued buzz of it as he begins to move, his chest pressed to my back, breath hot on my ear.




"I'm lost in you."
Therein lies the catch when running away from your problems: You can't run forever. The past is bound to catch up with you...Suddenly and painfully, Mia and Ansel are reminded of reality. My head was spinning when a particular twist came and reared its ugly head. PERSONALLY, I DON'T EVEN KNOW WHAT ANGRY FRENCH PEOPLE SOUND LIKE, but authors Christina and Lauren made me experience every sharp, biting word! Yikes, *that* scene hurt. :( I was dropping f-bombs left and right, but it was the kind of book-pain that hurt
SO GOOD
because I was completely immersed in these characters and their story!
"Look, I watched you lose the most important thing in your life and there was nothing I or anyone else could do to make it better. We couldn't turn back time..." Harlow says, voice uncharacteristically shaky. "But I can tell you now not to be an idiot. Love is fucking hard to find, Mia. Don't waste it because of some stupid lines on a map."
My eyes actually watered.
Damn
, Christina Lauren know how to write best friends!
For me, everything that happened next was
so important
. I was
hoping
to see change in Mia. I was craving that moment when the pretending would stop, and she would face her future head on.
Take control
. It was such a "Hallelujah!" feeling when it all came together...
This is the point where I would have needed to disappear inside of someone else, to quiet my mind with costumes and make-believe. But right now, the only person I want to be is me

.
Some totally serious, analytical notes:
91%: SHRIEKIIIIING!
92%: STILLLL SHRIEKINNGGGG!!!
Also:
"JULIANNE REALLY IS a goddess" -- Having a private freak-out because I have the same name as a character
...
This fabulous writing duo has a magic wand when it comes to happy endings. They know how to write such beautiful,
heavenly
endings. I'll say it again...Sweet Filthy Boy left me starfished on the ground, in a book-love haze, with a dopey grin on my face! From beginning to end, I adored Mia, Ansel, and their unpredictable journey! Book two of the series can't get here fast enough!
.....
PURCHASE

Wild Seasons, #1
| Amazon | Barnes & Noble | iBooks | Target |
.....
PRE-ORDER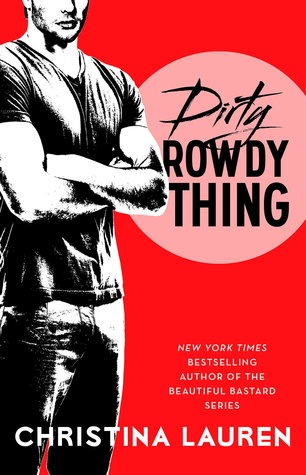 Wild Seasons, #2

.....
ABOUT THE AUTHORS
Lauren Billings
(but everyone calls her Lo) has a Ph.D. in neuroscience and before she made writing her full-time job, would spend her days doing nerdy research-type things wearing a lab coat and goggles. She is silly Mommy to two littles, wife to one mountain biking homebrewing scientist, bestie to a shoe-stealer, and an unabashed lover of YA and romance.
Christina Hobbs (but you'll always hear Lo call her PQ) used to spend her days in a junior high counseling office surrounded by teenagers. Married to the cutest boy in school, she has a thirteen year old daughter, is an unapologetic lover of boy bands and glitter, and also likes to steal Lo's shoes.
.....
MORE FROM CHRISTINA LAUREN
THE BEAUTIFUL SERIES
| My Reviews: Beautiful Bastard + Beautiful Bitch (#1/#1.5), Beautiful Stranger (#2) , Beautiful Bombshell (#2.5), Beautiful Player (#3) |